Mojoland Adventure Park in Delhi NCR
Are you looking for a thrilling experience in the vicinity of Delhi? Look no further than Mojoland Adventure Park, the best adventure park in Delhi NCR for adrenaline-pumping activities.
Mojoland, located just a short drive from the heart of Delhi, offers a diverse range of adventure activities in Delhi NCR that will satisfy even the most daring thrill-seekers. Mojoland has something for everyone, from zip-lining to bridge walk, and wall climbing to Free Fall.
The zipline is one of Mojoland's most popular attractions. Soaring through the air on a cable suspended high above the ground is an exhilarating activity. Mojoland, the best adventure park in Delhi NCR is the ideal place to test your limits and experience the rush of flying through the sky, with multiple ziplines available, including some that stretch over 400 metres in length.
One of the most well-liked attractions of this adventure park in Delhi NCRis the zipline course. This exhilarating tour offers breath-taking vistas of the surrounding countryside as guests soar past the park's tall trees and across picturesque valleys. There is something for everyone, from novices to experienced thrill-seekers, thanks to the several lines of various heights and lengths. At Mojoland, everyone's safety is guaranteed by experienced guides and top-notch equipment, ensuring a fun experience for all. For everyone looking for a memorable adventure in a breathtaking natural location, ziplining at Mojoland Adventure Park is a must-do activity.
Adventure enthusiasts will love the thrilling experience of wall climbing at Mojoland Adventure Park. There are walls for every skill level and height, so there is something for everyone who want to indulge in adventure activities in Delhi NCR. For a secure and fun climb, safety equipment is provided on the walls, and qualified staff is on duty. As they mount the walls, climbers can put their power and dexterity to the test while taking in the breathtaking vistas of the landscape below. Overall, wall climbing is an exhilarating experience that shouldn't be missed at the best adventure park in Delhi NCR.
The heart-pounding sensation of Free Fall at one of the best Adventure Parks in Delhi NCR is sure to satiate thrill-seekers. Participants are hoisted up to a high platform while being secured into a harness, where they make a leap of faith off the edge. They feel an adrenaline rush as they free-fall through the air before being slowed down by the safety devices. Participants can experience the thrill of Free Fall without worrying about their safety thanks to qualified staff and top-notch safety equipment. Overall, Mojoland Adventure Park's Free Fall is a memorable experience.
Sky Cycling is a thrilling way to enjoy the great outdoors at the best adventure park in Delhi NCR. Cycling on a high wire hung above the earth, riders take in the spectacular view from an unusual vantage point as they make their way across. Participants may feel secure while going on this thrilling adventure thanks to safety harnesses and qualified crew. If you're looking for a one-of-a-kind and unforgettable experience, try sky cycling.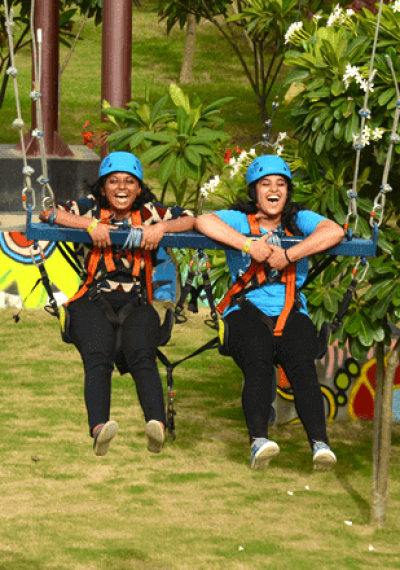 NCR's Only Concrete Skate Park
Skateboarders and BMX riders may enjoy an exciting experience at the only concrete skate park in the National Capital Region at Mojoland Adventure Park. Riders may show off their skills and experience an exhilarating ride thanks to the hard ramps, bowls, and rails. To provide a secure and enjoyable experience for everyone, the park also provides safety equipment and skilled employees.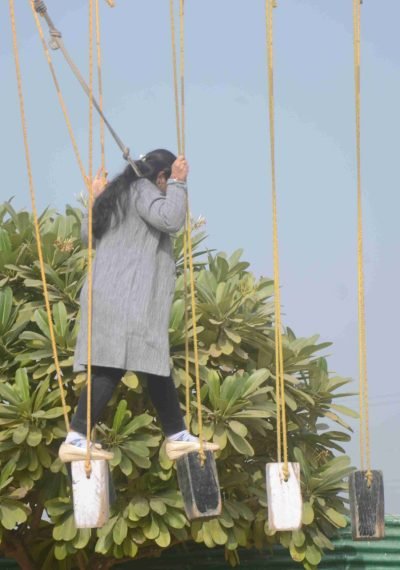 At this adventure park in Delhi NCR, archery is a thrilling and difficult activity that puts participants' accuracy and precision to the test. Participants can have a safe and thrilling experience thanks to expertly crafted equipment and knowledgeable instructors. Both novice and expert archers can practice at the park, which offers a variety of targets and shooting distances. Archery is a fantastic activity for relaxing and takiPaing in nature.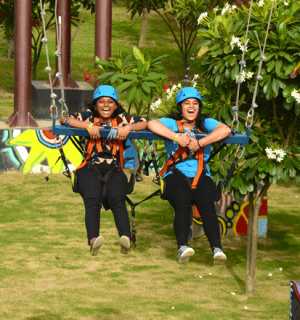 At Mojoland Adventure Park, the thrilling sport known as Trampoline Bungee mixes the exhilaration of trampolining with the rush of bungee jumping. Bungee-corded participants leap on a trampoline while flipping and hopping in the air.
Participants can take pleasure in this thrilling sport with confidence thanks to qualified professionals and safety equipment. For those looking for an amazing adventure, Trampoline Bungee is a must-try.Above all the aforementioned activities at this adventure park in Delhi NCR, there are numerous other activities to make your adrenaline rushes, like Low Rope Walk, High Rope Walk, Rocket Ejection, Bridge Walk, Tire & Net Walk, Giant Swing, Angry Bird, Dart Ball, and Commando Net. So, pack your stuff and head towards one of the most entertaining destinations of Delhi NCR.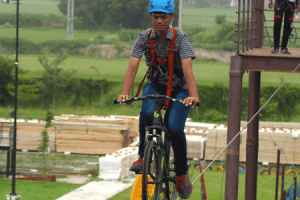 We Prioritize your Safety Firsthand
Of course, at Mojoland, safety is always a top priority. All activities at one of the best adventure parks in Delhi NCR are overseen by trained professionals who ensure that all equipment is in good working order and that all participants are properly briefed on safety procedures before the start of any activity.
Why Choose Mojoland for Adventure Activities?
Mojoland, in addition to a wide range of adventure activities in Delhi NCR, provides several amenities to make your visit as comfortable and convenient as possible. After a day of adrenaline-fueled excitement, the park has numerous food and beverage outlets where you can refuel. There are also changing rooms and lockers to keep your belongings safe while you enjoy the park's attractions.
Overall, Mojoland Adventure Park is a great option for an adventure park near Delhi NCR that offers a variety of thrilling activities. It is the ideal destination for anyone looking to spice up their day with its convenient location, excellent facilities, and variety of exciting attractions. So pack your bags, gather your friends, and prepare to have the time of your life. Come to Us Today!!